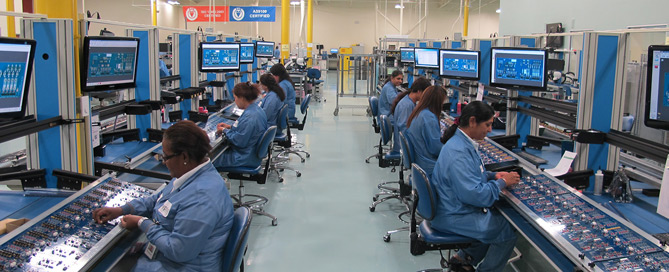 Krypton Solutions Services: Assembly
Krypton's PCB Assembly Services
Krypton provides you with the best in Cutting Edge Electronics Manufacturing Services driven by state-of-the-art automated surface mount technology. Krypton continually acquires the right equipment for the right processes. Our customers require us to have sophisticated equipment, highly skilled staff, processes and systems that work together to produce high quality products. As an integrated electronics manufacturing and design services company, we, at Krypton, leverage our product development, technology and manufacturing expertise to provide customers with our best-in-class process, technology, and supply chain management solutions.
Krypton Solutions Assembly Service
Krypton's assembly service model is designed to support high-mix, high-technology assembly from prototypes through low-to-mid volume production.
Our Assembly Technologies include:
Through Hole
Whether you need a couple of TH components hand placed, or 100% of your PCBs, our TH process is capable of doing the job. Our highly certified staff utilizes manual TH stations or our custom slide lines to assemble larger volumes. We support customers needing Lead and Lead Free (RoHS) with Wave and Select solder machines.
Highly Skilled Staff IPC J-Std-001 trained and certified
Manual Through Hole Assembly
Custom Slide line for larger volume manual assembly
Press fit connectors
Wave soldering and Select solder machines for Lead and Lead-free (RoHS) products
Surface Mount (SMT)
Krypton Solutions utilizes state of the art automated SMT equipment to produce the high quality products our customers expect. The accuracy and versatility of our SMT lines gives us the flexibility to assemble a wide variety of components. This capability, combined with the speed of our MyData pick and place machines (200,000 component placements per hour), enables us to build it right and on time.
Ability to place components as small as 01005 package size
Package types: QFPs, uBGAs, CSPs and BGAs
Two sided assembly for rigid and flex PCBs
Ability to do IPC-A-610 Class 1, 2 and 3
Convection reflow ovens with nitrogen
Chip on Board
Assembling silicon chips directly onto PCBs can be a cost effective solution to high silicon packaging cost for some of our customers. Krypton has the capability to support this challenging COB process.
Die attach (Outsourced)
Flip Chip
Package on Package (PoP)
Chemistries
Krypton's cleaning process with our closed looped water purification system and water soluble flux produces the cleanliness our customers require. We can also support customers that require a "no clean" process or have specific requirements for ionic contamination.
Aqueous cleaning
Closed loop water purification system
No-clean processing